AERE
The House in the Forest
A peaceful respite in a forest during despondent times.
Project Information
Background
The Aokigahara Forest in Japan unfortunately serves as the destination for many lost souls due to the various pressures from our modern day lifestyle and society. The AEREHOUSE seeks to inspire and offer refuge.
Role
Designer, Team of 3
Tools
Adobe Photoshop, Adobe Illustrator, Rhinoceros 3D, SketchUp Pro, V-Ray,
Project Year & Timeframe
2017 – 1 month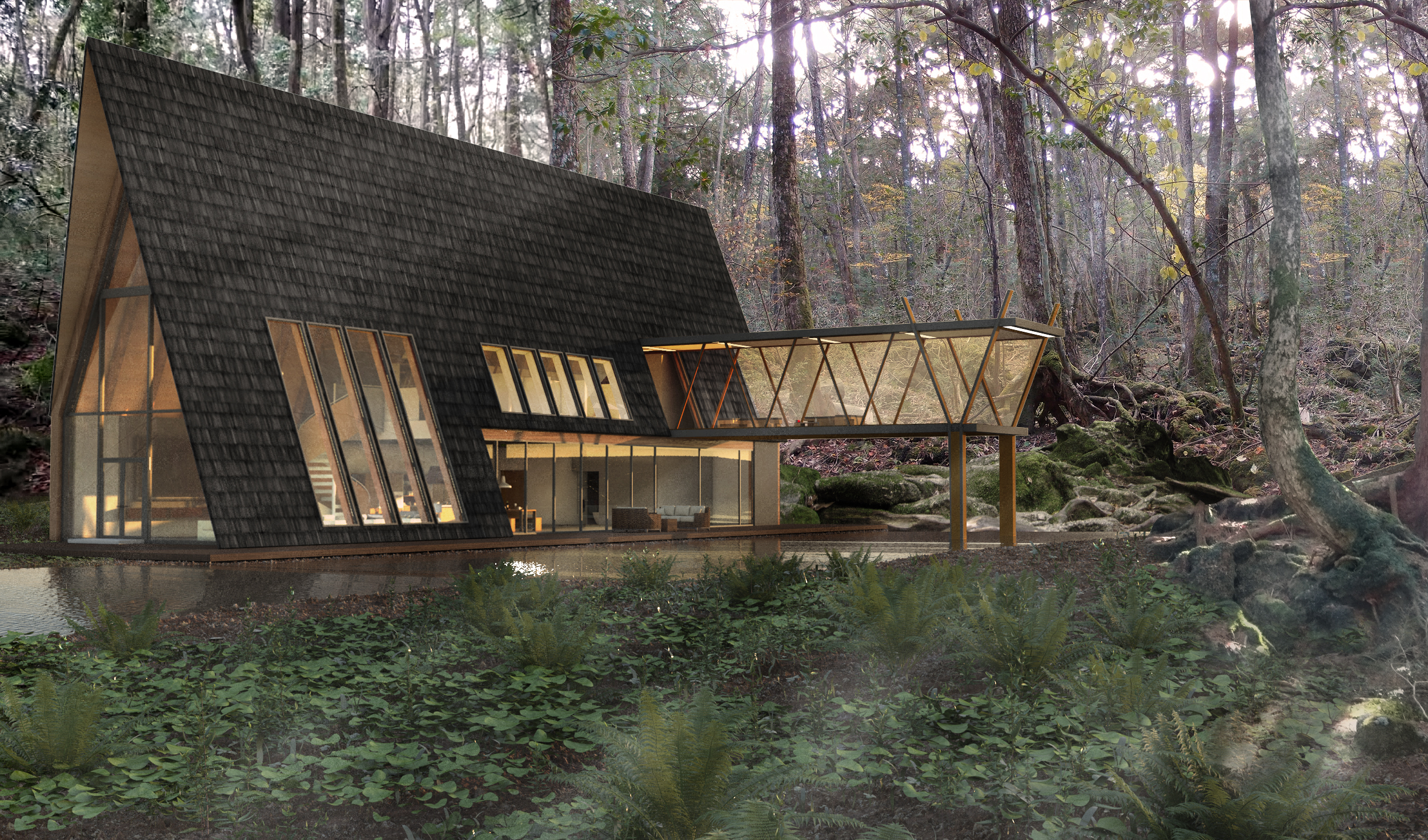 Project ideology
For individuals who enter Aokigahara Forest unsure of their life and fate, the AEREHOUSE serves as a rehabilitation clinic for those who seek help. Like the trails of bread-crumb ribbons left behind to serve as a lifeline, the AEREHOUSE serves a similar purpose being positioned along the natural ribbon of the river.
The program and circulation of the AEREHOUSE are intertwined. AERE itself stands for Arrival, Embrace, Reflect, and Elevate, the four programmatic features of this design.
First, upon Arrival, the wanderer is taken in and guided by the house's caretaker – an Artificial Intelligence who assists them in their rehabilitation. Second, the house Embraces the user, registers them, and welcomes them into the living facilities on the first floor. Third, the communal sleeping quarters offers space to Reflect, and fourth, the user can go onto the bridge overlook & meditation space to both symbolically and physically Elevate with their thoughts.
The A-Frame design is used due to its height, natural inviting wood construction, and distinct prominent features. Its triangular peak acts as a beacon to attract lost souls within this forest – its wide frames designed to create sanctuary for those who need its shelter.