Building resources for Canadian airline rewards collectors.
Project Information
Background
For travel enthusiasts, fast timing and early knowledge of airline rewards redemptions is key. From this user need, a suite of web tools for a small-knit group of dedicated Canadian travellers and rewards points collectors was created. Components include a custom web dashboard & credit card rewards flowchart for travel redemptions.
Role
UX Designer & Graphic Designer – wireframing, high fidelity assets, content creation, user research
Project Year & Timeframe
2022 – Ongoing
Tools
Figma, Adobe Photoshop, Adobe Illustrator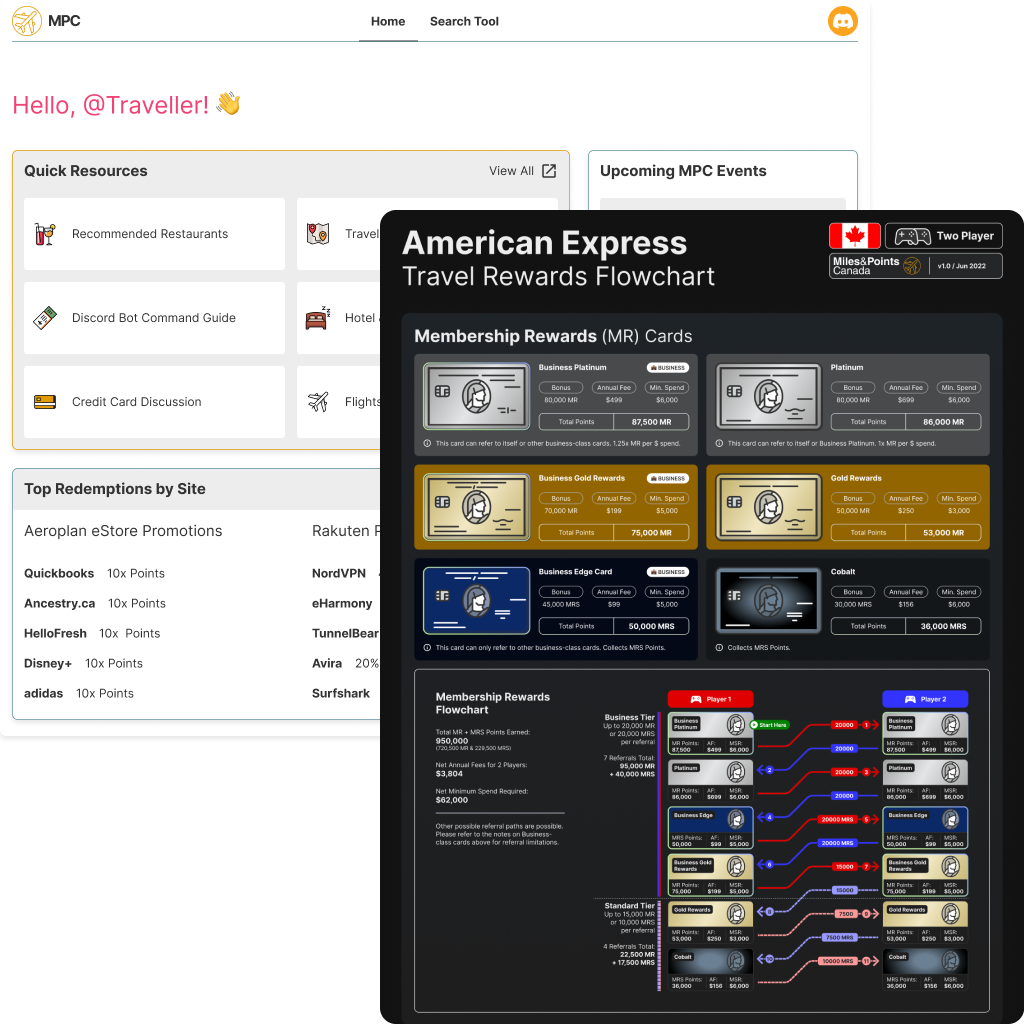 Travel Enthusiasts Unite
Towards the 2nd half of 2022, I had the opportunity to join a small and close-knit community of Canadian travel and rewards points enthusiasts.
While mainly based within a private Discord server, there was a use case for resources that existed outside of these messaging channels.
With the feedback from fellow travellers and developers, we had put together a suite of web-based tools, links, and graphics that offered valuable information for members, and helped foster a community of knowledge sharing.
Features at a glance
Dedicated homepage with link out to common resources, upcoming events, and deals.
Air Canada flights search aggregator
Travel Rewards cards bonuses & referral flowchart
MPC Homepage & Search Tool
Dedicated Members-Only Dashboard
The homepage was created with feedback from the community about features and quick links they would most like access to.
The latest iteration of the homepage involved the following:
Webpage access by Discord login/logout
Quick references to externally linked community-made material
View upcoming member events in Discord server
View a summary top-rated deals from Aeroplan eStore, Rakuten Canada, and Great Canadian Rebates
View latest Premium and General deals from Flyertalk Forums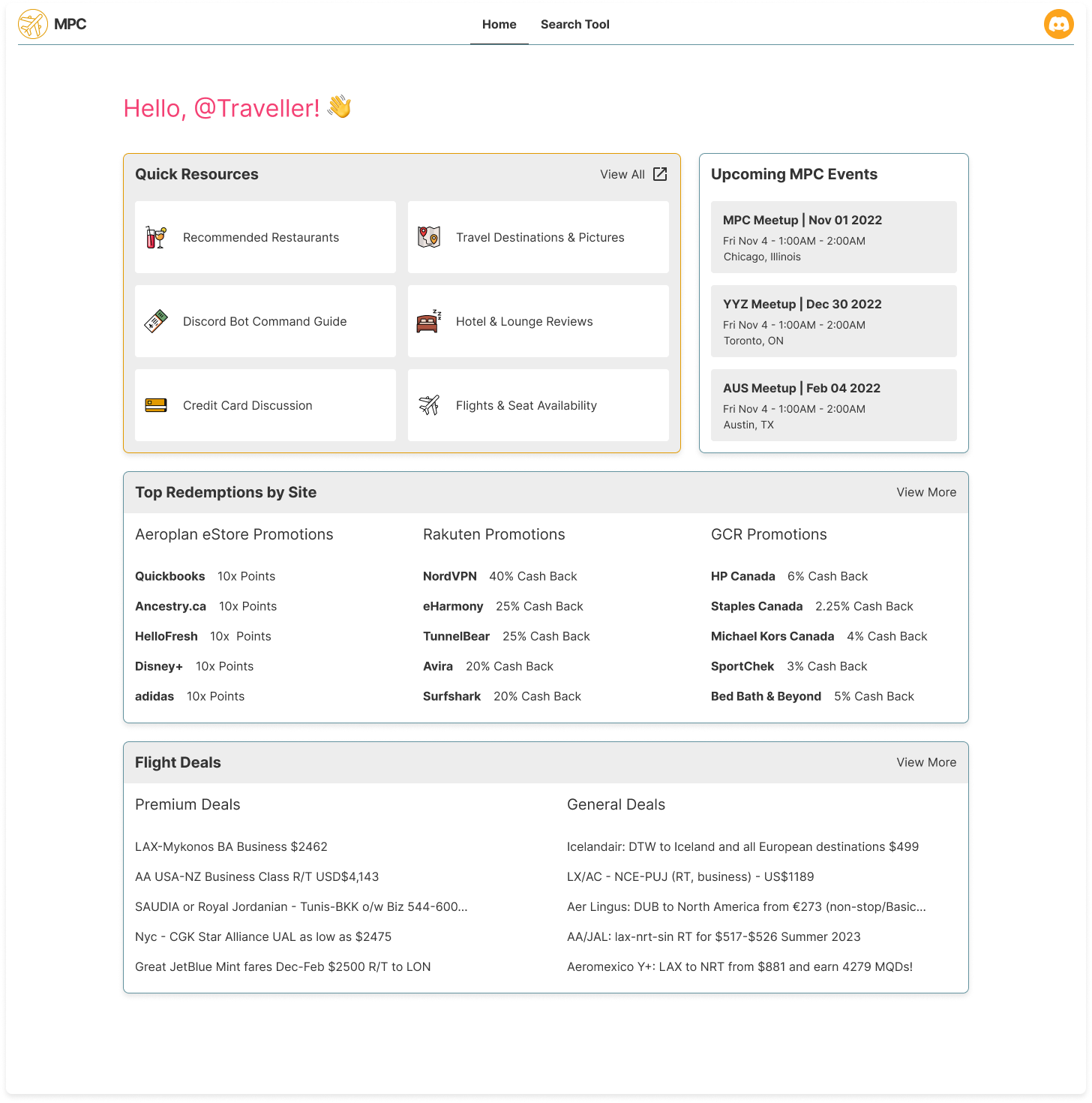 Power-User Friendly Search Tool
One of the most used features by members is a powerful Air Canada flights aggregator.
This search tool involves the following features:
– MUI React component library based form elements for quick deployment
– Ability to search by multiple origin airports, destination airports, and departure dates all at once
– Powerful filter capabilities, including number of stops, duration, departure & arrival times, fare class, and aircraft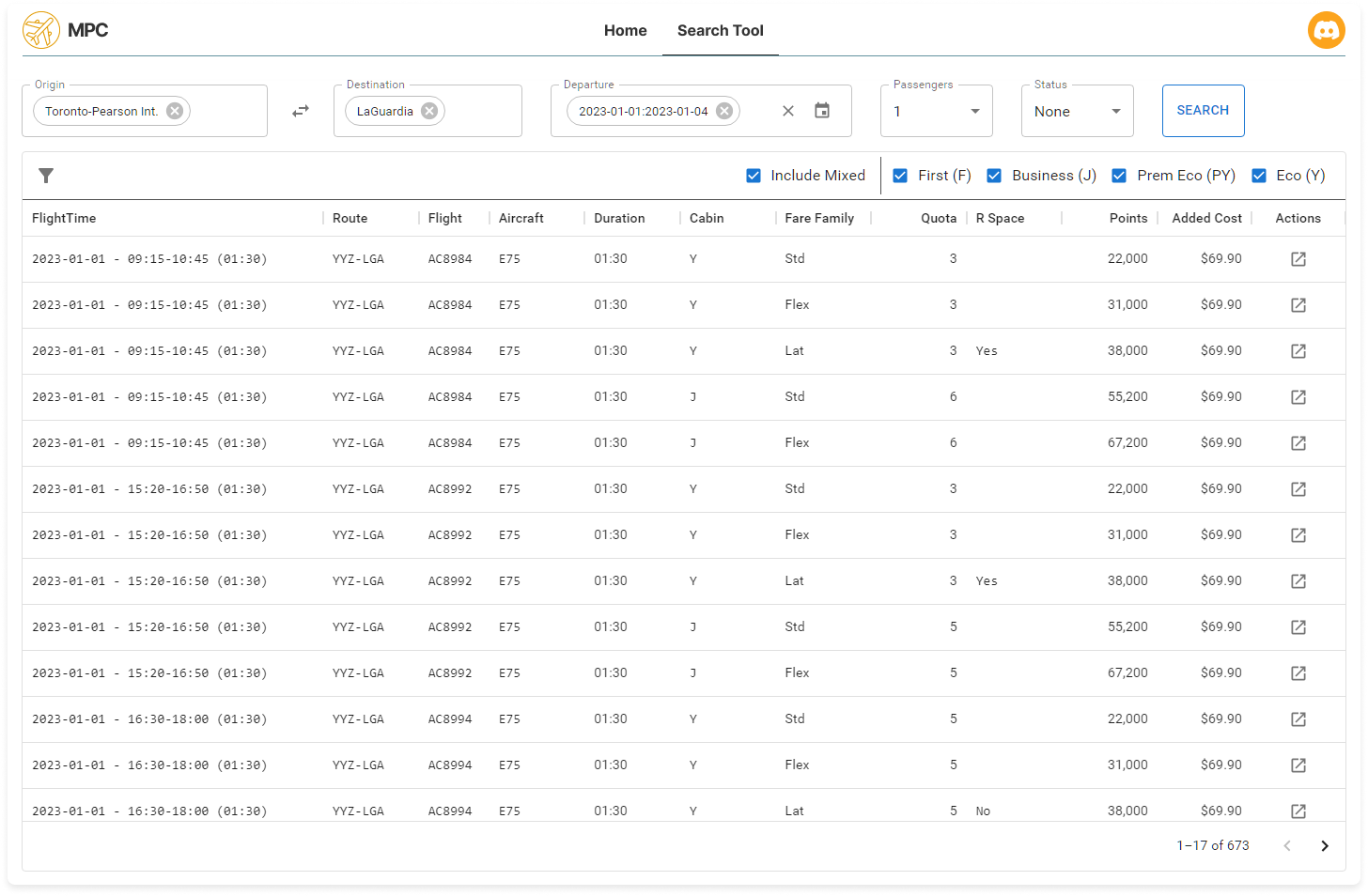 Rewards Flowchart
A Quick Reference Guide to Rewards
This flowchart is a helpful guide for standard points offerings available through Amex CA.
Key points of information include:
Which cards can earn Membership Rewards, Aeroplan Points, or Marriot Bonvoy
Standard welcome bonuses, annual fees, minimum spend requirements, and rewards points available
Detailed flowchart of referral bonuses, and total rewards points earnable through referral amongst two account holders.
Additional notes and referral policy information for certain rewards cards